Combine either corned beef, pastrami, turkey or salami with 2 large latkes (potato pancakes) and you have a $24.95 lunch that Manhattan's 2nd Avenue Deli calls its Instant Heart Attack Sandwich.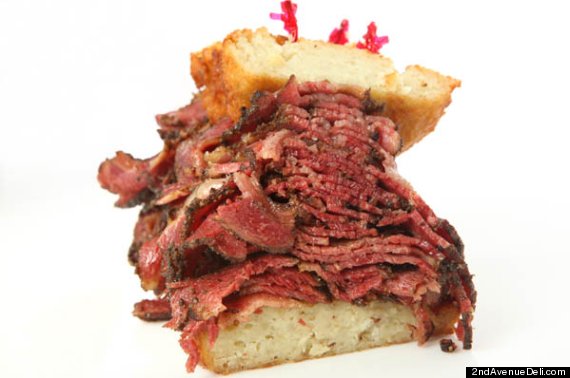 Because the Heart Attack Grill of Las Vegas threatened a trademark infringement suit, the Deli wanted to be sure it had a right to use cardiac themed names. The opinion from the US District Court was yes. No one will confuse the Las Vegas triple bypass burger and fries made from lard with food from a kosher deli.
A trademark dispute is all about intellectual property rights. Think for a moment about Apple's logo or the shape of a glass Coca-Cola bottle or the McDonald's Golden Arches. All defined as trademarks, they are someone's intellectual property because they identify the source of a product. In the 2nd Avenue Deli case, since there was no chance of confusion, a trademark was not violated.
In a market system, trademarks, patents and copyrights are crucial sources of incentives that encourage innovation.
The result? The 2nd Avenue Deli is now innovating with its Triple Bypass, a 3-latke meat sandwich for $34.95.
You can read more about the lawsuit in this Reuters article while here is the actual decision and here is an econlife post on the red shoe sole trademark fight between YSL and Louboutin. Finally, here is a menu from the 2nd Avenue Deli.