In the Indian Cola market, Coke is #3, Pepsi is #2 and Thums Up is #1.
Thums Up?
More orangy and fizzy than Coke, Thums Up was created by local businessmen when Coke left India in 1977. Coke exited with Pepsi because a new law mandated that they would have to give up 60% ownership to local firms. Also, Coke probably did not want to share its secret formula with a new partner.
Fast forward to the 1990s when India was more welcoming to multinationals. Hoping to re-establish market share, Coca-Cola bought Thums Up and has never been able to surpass its popularity with Coke.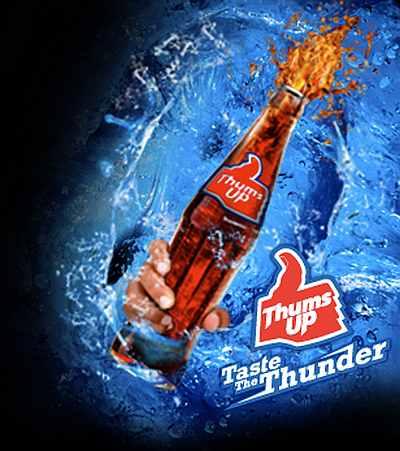 Talking about India, The Economist conveys its contrasts. #4 among the 15 largest retail grocery and food markets when looking at total revenue, India is at the bottom at $324 for annual per capita food spending. (France, at $4740 is at the top.) This takes us to the challenge that a retailer like Coke has when straddling India's 3-tiered market: the top has European and American tastes, the middle is beginning to demand worldwide brands and the bottom has minimal purchasing power.
For articles about Thums Up, FT and the economic times provide considerable information while The Economist has a lengthy description of the challenges facing retailers Procter & Gamble and Unilever in India. For the ad my source was here and my grocery and food revenue facts came from here. Also, looking at jute, econlife focuses on India's license raj but the same ideas relate to Coca-Cola's departure.